The Wimbledon Tournament is over, and here am I, going to post about what I observed and read that are actually peculiar during the tournament. Anyway, here is a glimpse of some news that I found as bizarre.
Let's start with styles and fashion of the players.
I admire Mattek-Sands for bringing up a fashion surprise in Wimbledon, which of course we all know that have all white fashion (just like the nurses in white uniforms scrubs and Dickies uniforms). During her first- round match, she wore a white bolero jacket with spikes and cut-outs of white tennis balls. Take a look.
The Side View
The Rear View
Now, let's take another look on another player's fashion style. It's not actually a real surprise when Venus Williams wore another non-flattering sportswear tiny playsuit. The white onesie was so short you could clearly see the golden hotpants she was wearing underneath every time she bent forwards during the match. It also had a curiously baggy, and very unflattering top-half, which made her chest look saggy as she ran around the court.
And speaking of fashion and style, the gorgeous Maria Sharapova was seen recreating and posing like the iconic
Athena poster
after the wind caught her mini-dress. Whew! Hot!
Athena poster
Maria Sharapova
"I think Feliciano is a great player, but he certainly loves to look in the mirror. And it's okay to do it, he's a very attractive man. People always talk about women, but he is tall, handsome, with a good body. Very metrosexual, yes. But not only him, his style of tennis is also attractive."
Feliciano tweeted against this saying:
Worst Dressed
Marion Bartoli
Victoria Azarenka
Venus Williams
Best Dressed
Julia Goerges
Maria Sharapova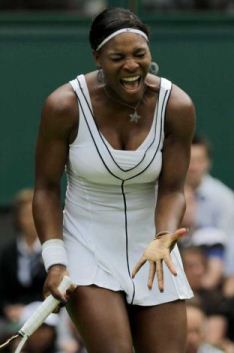 Serena Williams
The last news of course is about the winner of the Wimbledon tournament. I happen to be a fan of Rafa, so I'm sad that he didn't win. However, I'm satisfied that it is Novak Djokovic who beat him. It is not a shock for Djokovic is already the 2nd best and it is natural in the world of tennis and even in any sports that no single person or nationality has the monopoly of the trade especially on the tennis world. But what is bizarre, was
the moment that Djokovic won
, he ate grass from the playing field and found the taste of grass was good and quite well. Talking about animalistic behaviour, huh. However many men and women in Dickies uniforms and uniforms scrubs definitely disagree with his action. hehe. Obviously they are alarmed by the nutrients of the grass.
"We eat things from the grass family, things like wheat, barley and oats, but we tend to eat the seeds. Lawn grass itself, we cannot digest. You need a lot of time and a lot of stomachs to digest grass. Cows have four stomachs and it takes ages to digest. " (Sue Baic, spokeswoman for the British Dietetic Association.)